Rhodesian Ridgebacks + the Friedrich Family
Both: extraordinary + quite special!
Those who know the Ridgeback breed know it already. They might be a bit special but in a truly great way. Those who know the Freidrich family know it too. Special is what the six members of the Friedrich family are in any case. Just as it is with the Ridgebacks: they are different that's for sure. But they are very lovely as well. So you can get to know the he whole "special" clan we sincerely invite you to have a closer look at our homepage.
Meaning of Sanbona
Home of the Big Five in the malaria free western Cape area.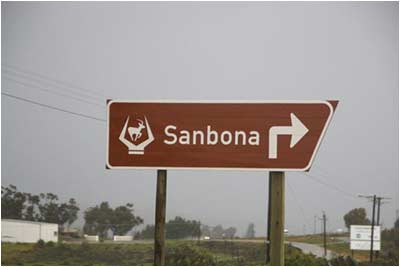 DThe 54 000 hectare Sanbona wilderness-reserve sits right in the middle of the "little Karoo" at the foot of the Warmwatermountain, between Montagu and Barrydale just off the famous Route 62. Sanbona provides relaxation, luxury and safari in the land of the bushmen of South Africa. The Name consists of the words "san", that's what the bushmen are called, and the term "bona" as a sign of the indigenous peoples hope for the land they lived in freely for thousands of years. In the 90s they turned farmland here into a reserve to give the land back to nature. For the first time in more than 200 years today you can find Lions and Cheetahs living freely in the little Karoo. Even the numbers of other animals in Sanbona increased over the last years. Such animals as elephants, capebuffalos, lions, hook-lipped rhinoceroses, square-lipped rhinoceroses, zebras, many kinds of antelopes, gnus, hartebeests, leopards, brown hyenas, black-backed jackals, cheetahs, hippos, giraffes, springboks, taurotragus, kudus, oryxes, duikers, capras, klippspringers, grysboks, ostriches, and rabbits came back into the area, which makes the reserve home of the "Big Five". More than 160 bird species have been seen here, one of them is the rare black eagle. Sanbona is home of the only free and independently living white lions on this planet as well. Rhodesian Ridgebacks + the Friedrich Family.