About us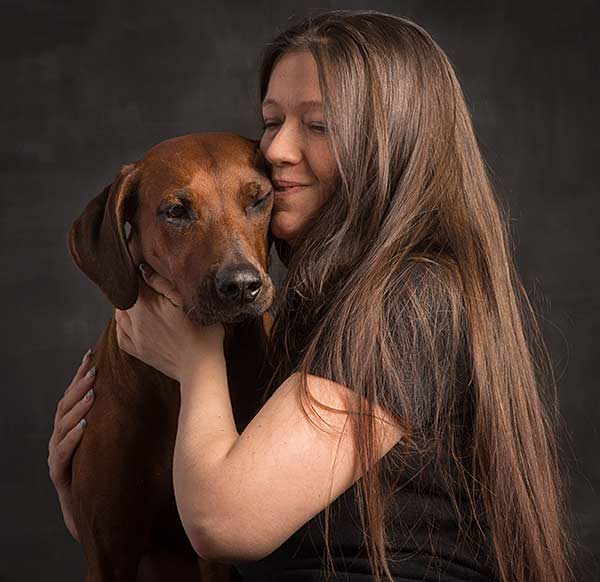 What is someone, who was born into a pack of mastiffs and then grew up with all the dog breeds in the world going to become? Right: a Doghuman. This Doghuman has a name as well: Xenia.

1995 Benjamin came into Xenias live and apart from his darling he had to deal with 3 dog-hanger-on's: the family dogs of his future mother in law. Good that he didn't dislike dogs but actually thought about getting one himself already. Not a problem with Xenia, Benny!

First of all the two sweethearts took care of having their own descendants. They came one after one: 4 offspring were born between 1996-2002: Franziska, Janine, Max und Joel. But those who are true dog lovers are patient as well. And between all the nappy changing, botty cleaning and taming the little ones they wouldn't have had any spare time for pets anyway.

But if they do it they do it right and one after one seems like a proven pattern for the Friedrichs. As soon as the kids were old enough the 3 puppies followed just as quickly.

Meanwhile in 2008 they opened a Dogpension. Kids, dogs and guest dogs: the Friedrichs definitely have strong nerves and endless energy. It's obvious that the Rhodesian Ridgeback breed matches the whole bunch perfectly. Why? That's what you can read in the breeds description….
There are 4 people we want to say a big and sincere THANK YOU to:


First of all thank you Heike and Peter von Ye Japaha. This is where we got our first Ridgeback Schnattchen. They were the one that made our wish to have such a dog come true. After the first visit we knew it already: That's where our "offspring" will come from! And that feeling didn't proof wrong. Today they still help and advice us whenever needed and always have an open ear for questions. Our first breeder choice was, and still is the first and best choice.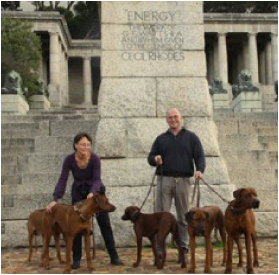 Another thank you goes to our now very good friends from far away: Susanne and Michael Psiuk. It always was my wish to be able to stay in touch with the breeders of our new family member. We are some of the very few lucky ones that get on with Mama Digetis family and Papa Dengas human pack as well. They are the ones that gave our "pack" the name Sanbona after which we named the website. Thanks a lot for all the advice and help and the nice sincere Friendship that developed here.